People would always talk about experiences that are good. Whenever people experience something good it's in our nature to brag about it. And that bragging feeling is a good way to promote your business through word of mouth. People who successfully use referral marketing really reap the benefits. Why not? It's definitely cost effective compared to other forms of advertisements, but it also reaches more people than you think. What happens here is people would refer people they know that are interested in what your company has to offer. So, in other words, there's no need for you to find people on your own.
And a cycle would eventually begin because your referred customer could also join your referral program, when this happens your reach grows to another set of friends. Essentially you would have a
It turns customers into return shoppers
Referral programs would trigger return customers. This happens more when your incentive is a return discount. When a customer refers someone successfully, it means they like your business and there's a big chance they would purchase again. When your reward is a return incentive then return shoppers would be guaranteed to happen. Building a relationship with your customer is also important, and referral marketing could help you build that. It basically is a mutually beneficial system where everyone benefits when they participate.
Referral Marketing Examples
Here we are with Coveroo and their amazing strategy of featuring the link right on their homepage and sending a dedicated email blast to all of their lists to announce their referral program. The moment customer click on their "Refer a Friend" program in their email, they go straight to a referral landing page that has a widget to make the customer share easily.
What's so focused amazing that?
First of all, it's very focused. There isn't any unnecessary links, there's just one and only star of the night which is the only call to action. The offer is very clear, it's right on the center and it has all the needed information on the top and bottom of the image.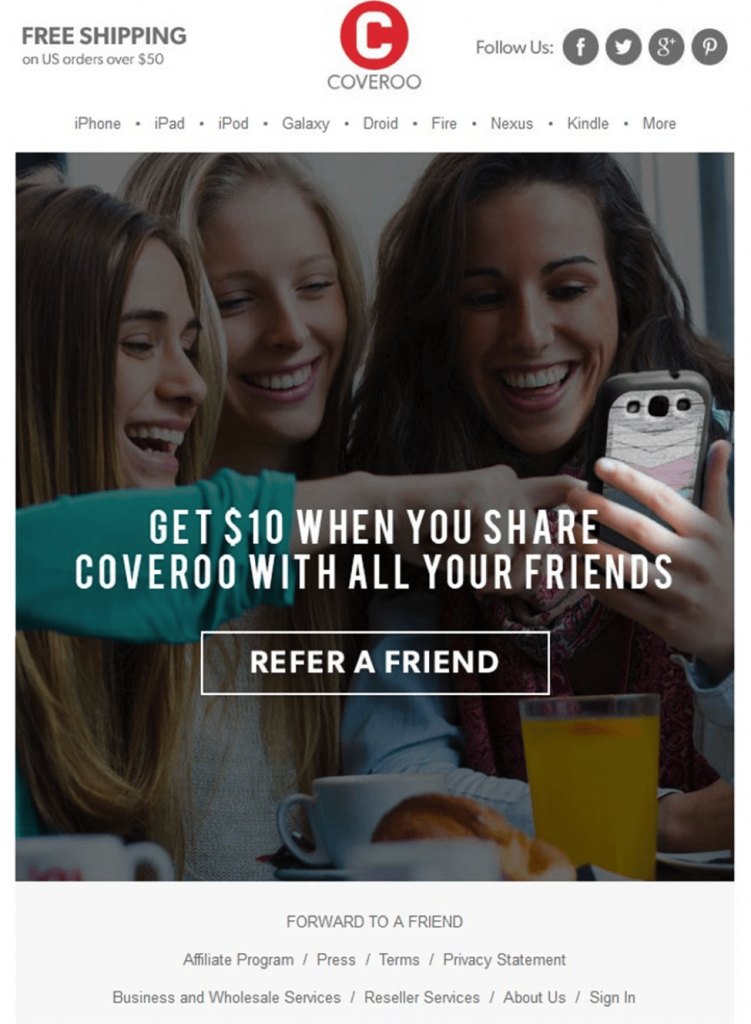 This is one is not just simple, it's even very direct. On their referral widget you see "Get a Free Pair of Socks". It answers the most asked question before asked to do something, "what's in it for me?". There are also visual cues that really act as a bonus too. You see the model wearing the socks in the background?  His image is facing the right which moves the customers eyes to the sharing space. They're basically offering you something you wouldn't want to refuse. It's just how we humans are made, it's more likely for us to respond when we know what we'll be getting in return. When the incentive is shown clearly, it becomes inspiring for people to share.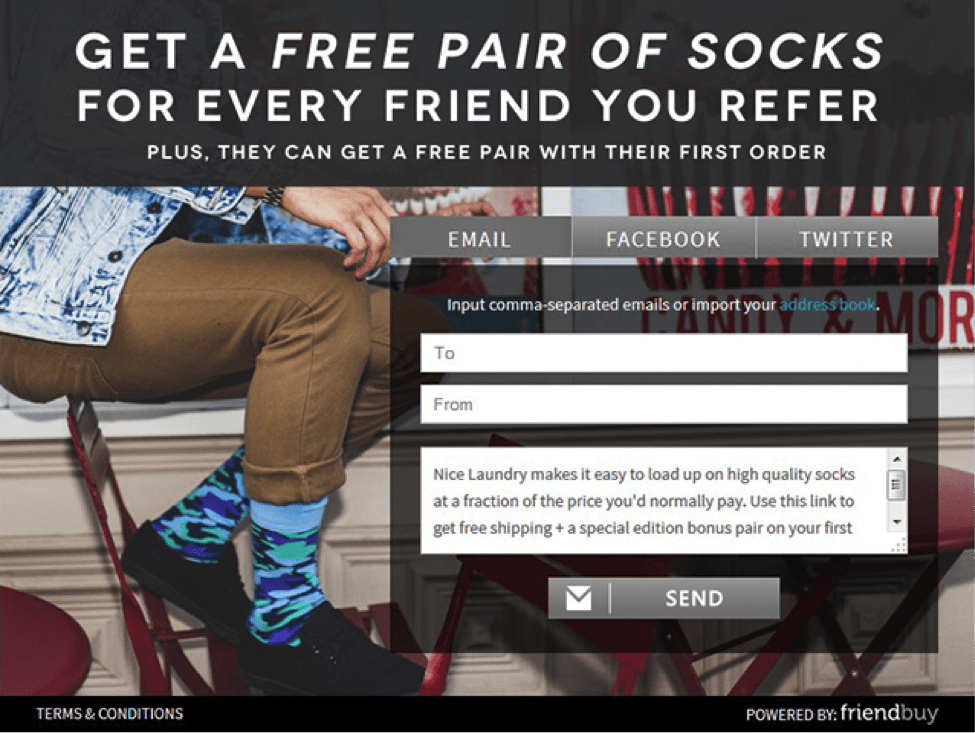 Referral Marketing Strategies
Phrase is like you are requesting for help
When you request for referrals, it's ideal to say it in a way that it would sound like you are asking for help. Why? Because it's human nature for people to want to help, especially if the person who needs help is someone they like and know. You can always ask for it by saying "I was wondering if we could ask help something… " Because when you do something like that, your chat with the person will be productive and you'll make them feel good because they were able to help.
Make use of your whole network
Taking advantage of your whole network is a good idea. And this is very true for your referrals, don't limit yourself with focusing on a single group of your network whenever you ask for an intro. Yes, your clients are great resources but they aren't the only one that you have. Remember your past customers? How about your industry connections? Your colleagues, family, friends, social friends, well everyone is a good try. The more people you ask help from, the more help you would get.
Make yourself accountable to numbers
Plan things out, stick to it, and make sure that you follow through. Whenever you fail to make yourself accountable to the numbers the more reason why people into sales don't get referral business. If you aim to get 5 introductions per week, then make sure you create a system that would hold you accountable to reach that number every week. Also, make sure that you have realistic goals. Make sure that your CRM system and calendar could be relied on in tracking your introductions. When you hold yourself accountable it would lead into an increase in your sales. Checkout our other articles like the best shopify courses