Affiliate marketing is a great way for freelancers and entrepreneurs to earn a steady income stream. Because most affiliate programs are made up of established products or services, most of your efforts have to be dedicated towards the promotion of the products more than any other area. These programs pay you an affiliate commission every month, sometimes annually as long as your referral is active with them. Some of the best affiliate software come with a lot of features. Recurring affiliate programs allow you to grow your commissions over time to a steady income that you can count on. There are many different types of recurring referral programs that you can join today and guarantee lifetime commissions.
OSI's comprehensive referral program allows you to earn as much as 20% recurring commissions by assisting companies to get more traffic and sales. All you need to do is register your email in the program to get a unique referral link. Share the link with your friends, family and community and earn 20% recurring commission for as long as anyone joins the program. Payouts are done every month for all the referrals that you have in the program.
This email service makes it extremely easy to carry out automated email marketing alongside many other amazing features. The subscription plan is affordable and offers you 14 days to try the service for free before making up your mind if you want it. All new affiliates can earn as much as 20% recurring commissions on their referrals. Potential earnings also include up to 30% bonus for bringing in $500 worth of new revenue in a month.
3. Aweber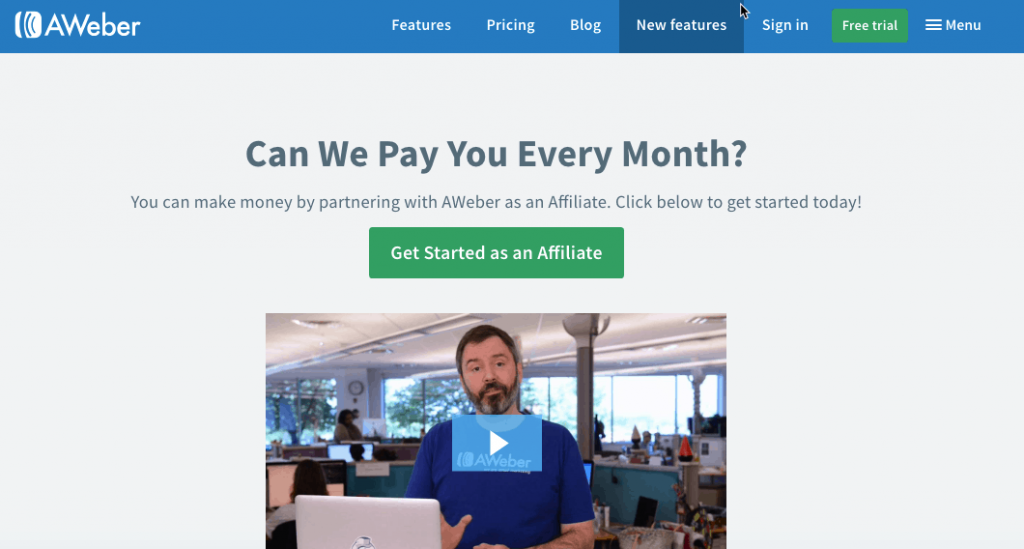 Aweber's email marketing campaign services can help you to boost revenue for your small business. Joining the Aweber affiliate program allows you to earn 30% recurrent commission on all referrals. There is no sign-up fee and payments are send to you every month. Use the business email marketing service to generate revenue and the referral service to earn more. Once you have your affiliate ID from Aweber, you can refer other businesses that require email marketing software and get paid for every order they make.
4. Benchmark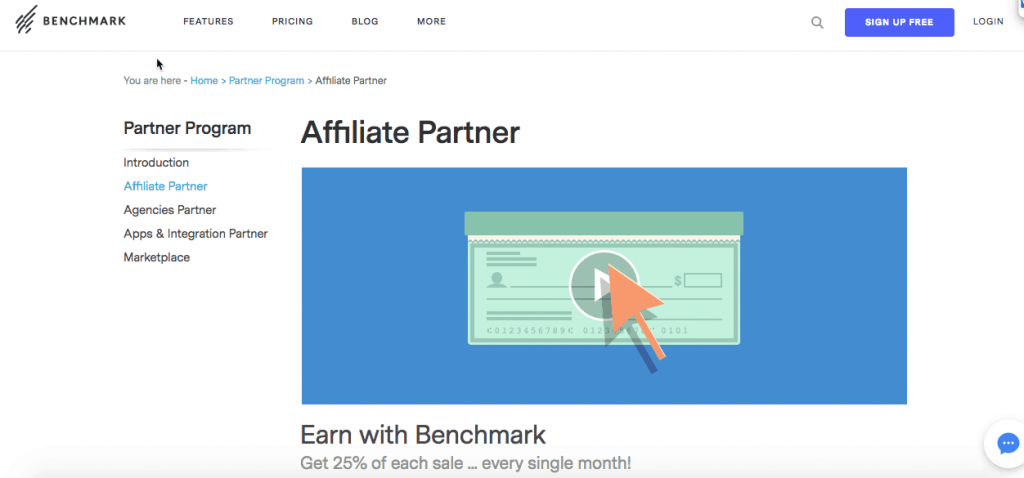 All referrals you make to the Benchmark platform will earn you 25% of their initial purchase and any subsequent payment that they make. The longer your referrals use the platform, the more income that you get. Payments are made when your earnings are more than $30 in a month. All earnings below $30 are rolled over to the subsequent month until you are eligible for withdrawal. The affiliate program is a great way to promote Benchmark's range of online marketing services on your website, blog and other online channels and earn money in the process.
5. GetResponse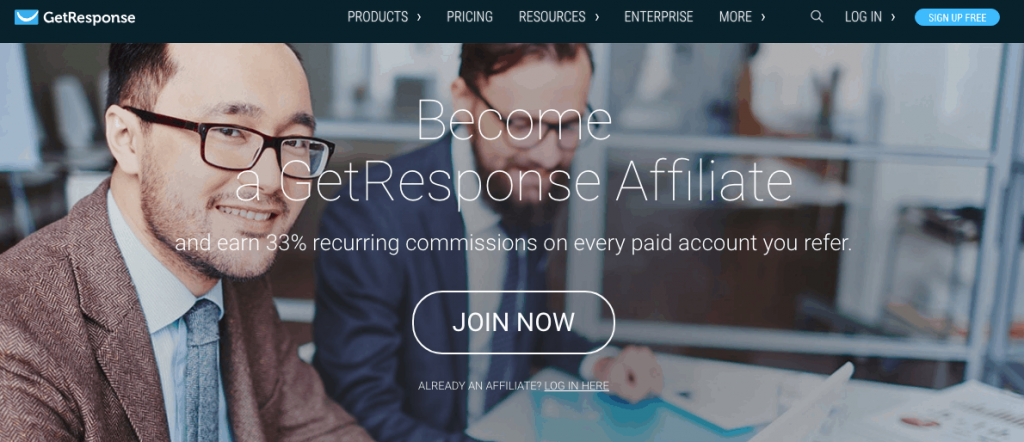 Here is another recurring revenue affiliate program that offers you 33% of all payments on referrals that you make to the platform. All affiliates earn 33% of the initial payment and on all monthly subscriptions that the customer makes. In cases where the customer upgrades their account to a more expensive package, the referral amount also increases. GetResponse's system is quite efficient because the web cookie with your referral link lasts for 120 days during which any sale from the computer still accrues to your account as a referral.
6. ClickFunnels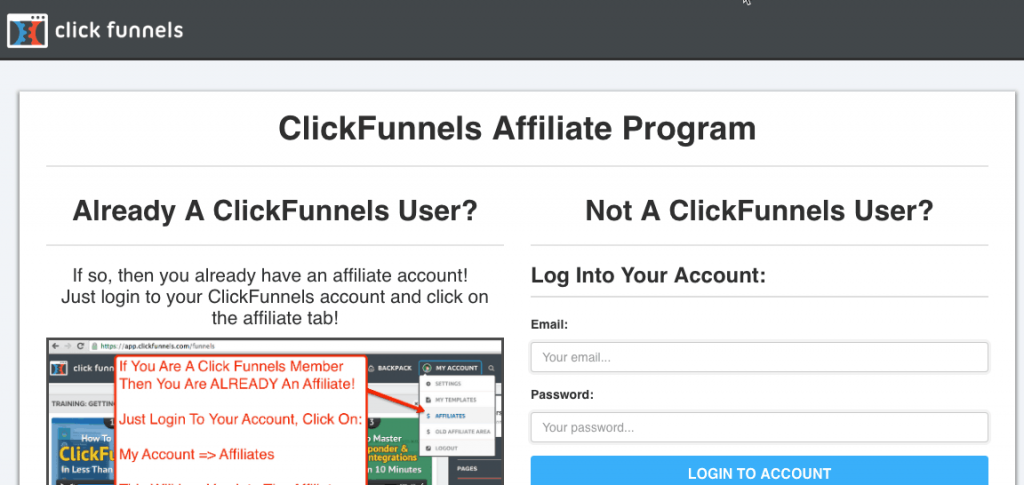 The powerful tool helps you to build effective sales tunnels with ease. The product contains a smart shopping cart that can boost upsells, email and Facebook marketing automation and easy, organized features in a convenient dashboard. The affiliate program offers you 40% recurring commission on every business that signs up for ClickFunnels with your affiliate link.
7. Leadpages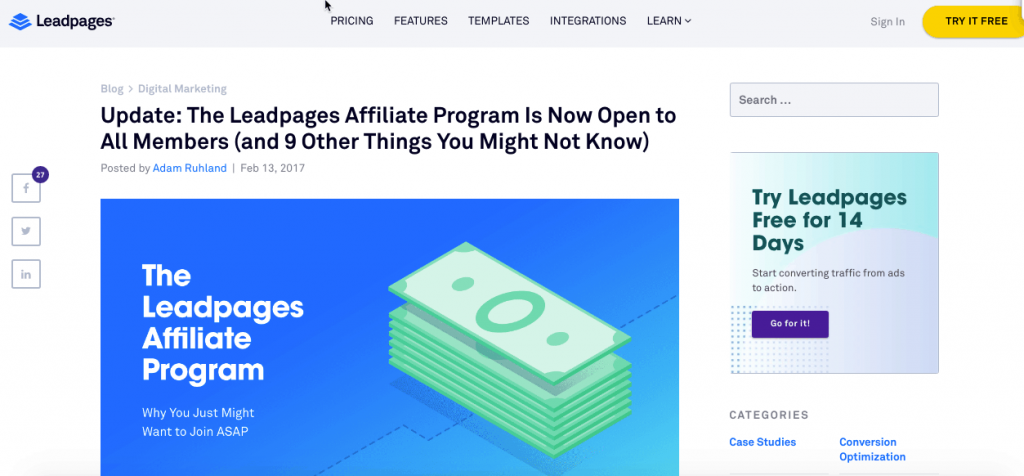 Leadpages recently introduced an improved affiliate program that offers you up to 30% recurring commission for every sale as a result of your affiliate link. Whenever a new member purchases Leadpages, the initial sale and monthly subscriptions count towards your referral revenue for the lifetime of the account. This means that with 30 sales an affiliate can make as much as $5,000 in a year, making it one of the most lucrative affiliate programs to look into. Payouts are done on a monthly basis within the first 10 days of the month.
8. PureVPN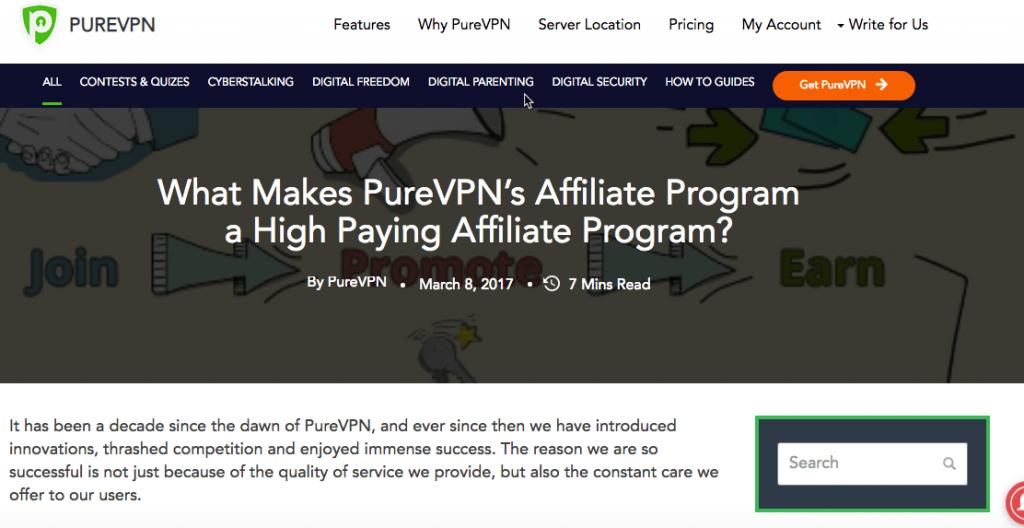 One of the world's most successful VPN providers, PureVPN gives you a chance to grow with the company by earning 35% of every subscription made through your affiliate link. This includes any one-time payment for services and subscriptions. This is one of the highest paying affiliate programs in the VPN niche and allows you to create custom banners and landing pages to help your product. You can also manage your referrals through a dedicated affiliate dashboard. Top earners also earn special offers and additional benefits. All first sales also get 100% commission as a way to incentivize effort.
Beyond Hosting provides a managed hosting service for websites and their affiliate program is easy to join. Earnings are unlimited and offer 40% recurring commission on all referrals that make a purchase. You earn through their lifetime and have a dedicated support team to help you with any issues and referral tracking assistance that you may need. Beyond Hosting also provides a wide range of promotional assets for affiliates to use for promotion.
10. Liquid Web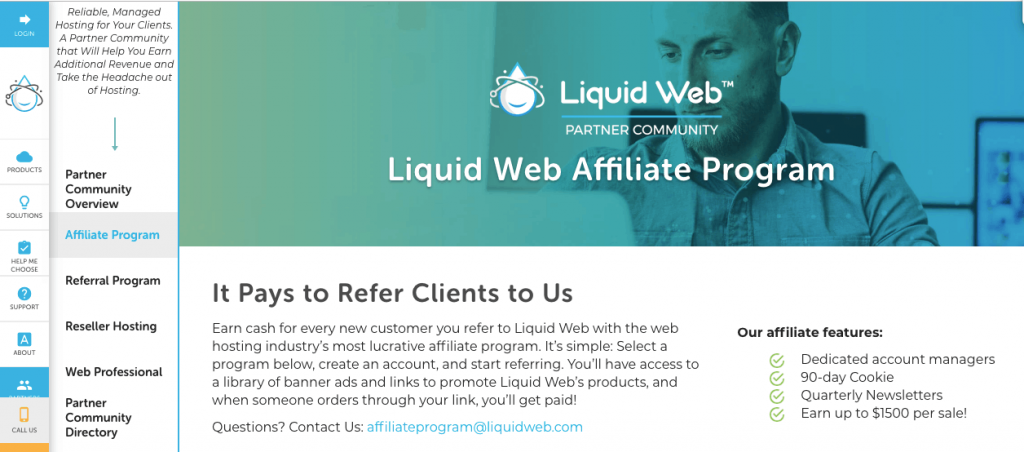 When you refer new customers to Liquid Web's web hosting service, you stand a chance to earn as much as $1500 for every referral made as an affiliate partner. Liquid Web provides an in-house platform for affiliates to use to generate promotional tools for creating assets, tracking and reporting leads and earning web hosting credits as affiliates. With a wide range of banner ads and products to offer, Liquid Web's affiliate program is one of the highest earners for affiliate marketers in the industry.
11. Builderall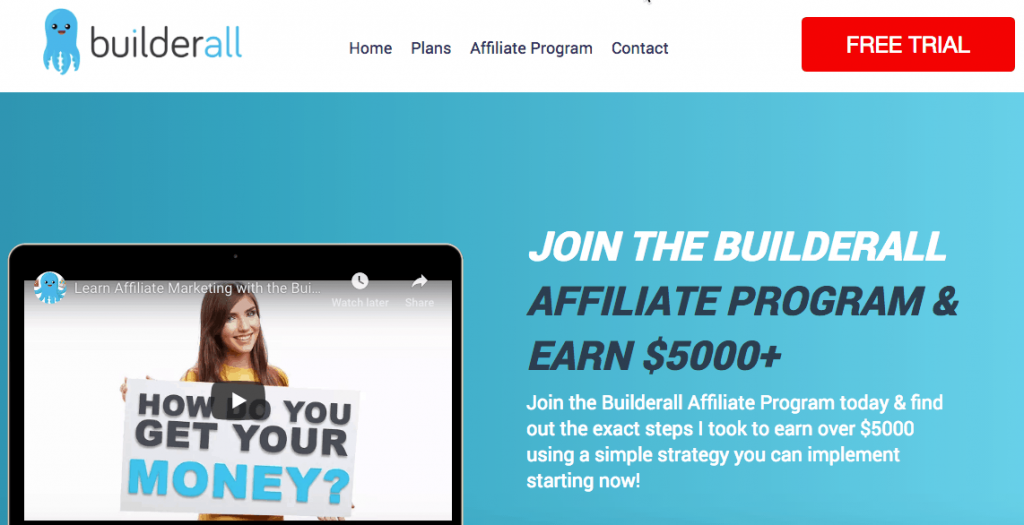 Builderall SEO offers an income stream to affiliate marketers to earn 30% recurrent commission on all customers that sign up through their affiliate link. This also includes subsequent subscriptions and payments made by referrals as long as they hold the account. Becoming a member is easy and Builderall SEO also provides a lot of pages and funnels, banner ads and lead magnets to improve your chances of earning referrals on your account.
12. Wishpond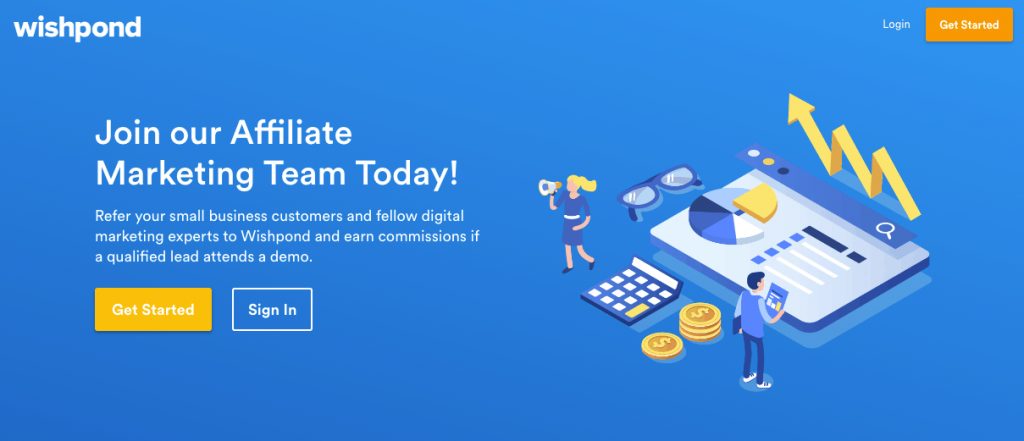 Joining Wishpond's affiliate marketing team avails you the chance to earn from payments made from small business customers and digital marketing experts who use the services. Wishpone offers monthly payments after leads have been verified and payments validated. Enjoy access to customized promotional materials, a support team and free landing pages to help you improve your chances of earning huge commissions on signups.
13. Ontraport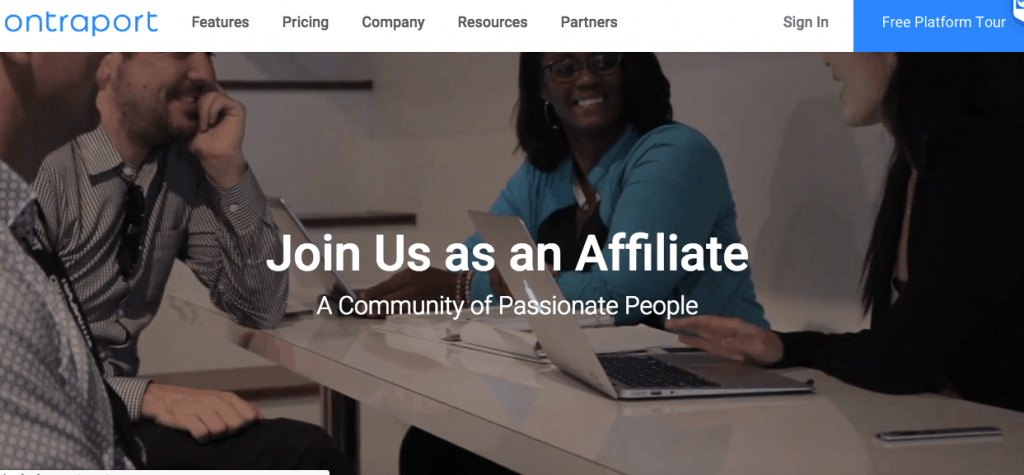 Ontraport helps small businesses to create marketing campaigns, marketing tools and insights into their campaigns to help improve conversion. A personalized dashboard shows real-time campaign conversion data and allows you make changes to increase your lead conversion. Affiliates of Ontraport earn a recurring 25% commission on all payments made from any Ontraport account that they refer. There is no fees, contracts or minimum sales requirement to worry about.
14. MailerLite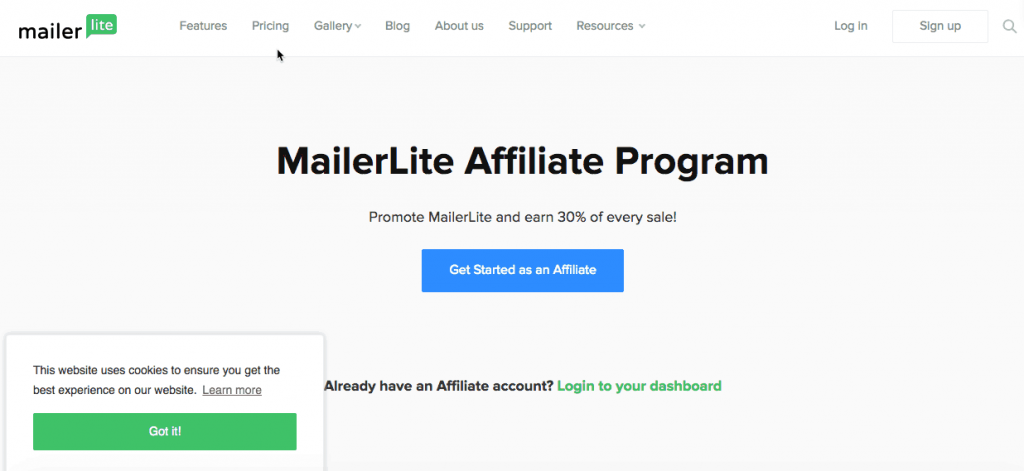 Promoting MailerLite can see you earning 30% of all sales made through your referral link. All payments from a referred account will contribute 30% to your earning for the lifetime of the account. All affiliate partners have access to a dedicated dashboard used for monitoring referral signups, purchases and earning. Partners also receive plenty of marketing materials to help promote MailerLite and drive sales. Earnings above $120 can be withdrawn into a PayPal account of your choice.
15. Hubstaff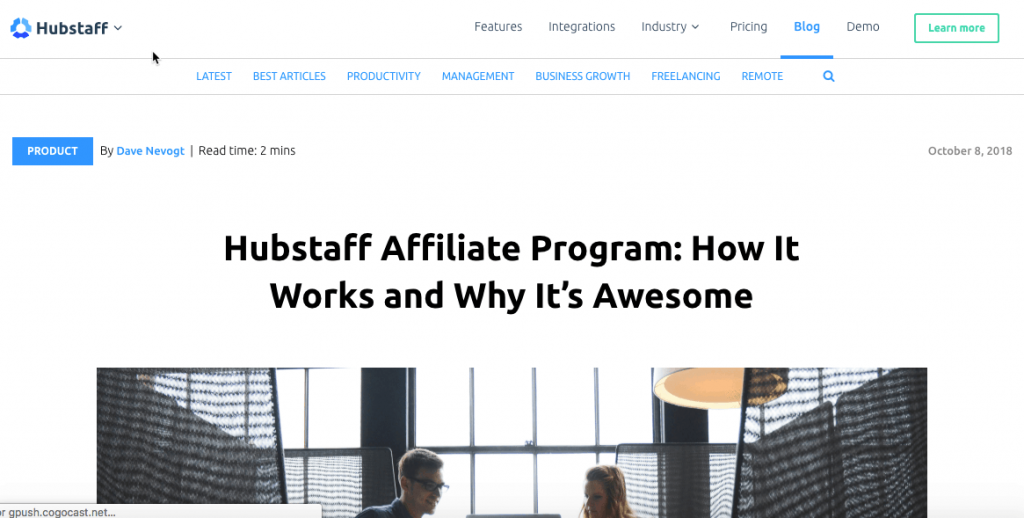 Hubstaff offers an affiliate program that pays 30% commission for every referral signup that you make. This allows you to make money when you share Hubstaff with your friend and family. Hubstaff provides an efficient time tracking software that helps businesses to ensure that their remote teams are putting in the required activity. Affiliates can easily sign up for an account and see everything related to their referral link like shares, clicks, commissions and referrals all at an easy glance. Affiliates receive 30% of all signups and subsequent renewals.
16. Kinsta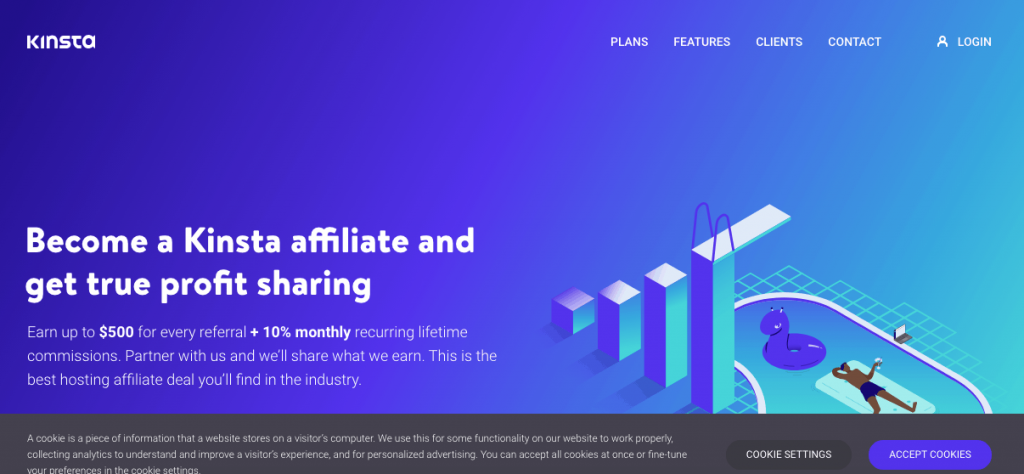 Kinsta allows you to earn as much as $500 on every signup made using your referral link. Kinsta makes it easy to make referrals by creating 60-day tracking cookies that ensure that even when users do not convert immediately, there is still plenty of time for you to follow up and get the sale. Earnings made in the Kinsta affiliate program are paid every 2 months. 10% monthly recurring commissions are also paid to affiliate partners for all referrals made. Kinsta's program is quite lucrative because the platform has a churn rate of less than 5% which means that earnings are longer lasting than other programs.
17. Rose Hosting

Rose Hosting a VPS affiliate program that allows you to earn money steadily for the life time of referrals by placing banners and other promotional materials on your website. Rose Hosting pays 50% commission on the first month's payment from signups and a recurring commission of 10% monthly from subscriptions and all other payments by referrals. Upon achieving 20 signups, the initial commission doubles to 100% with many more bonuses up to $500 for referring 50 or more sales in a month.
18. PicMonkey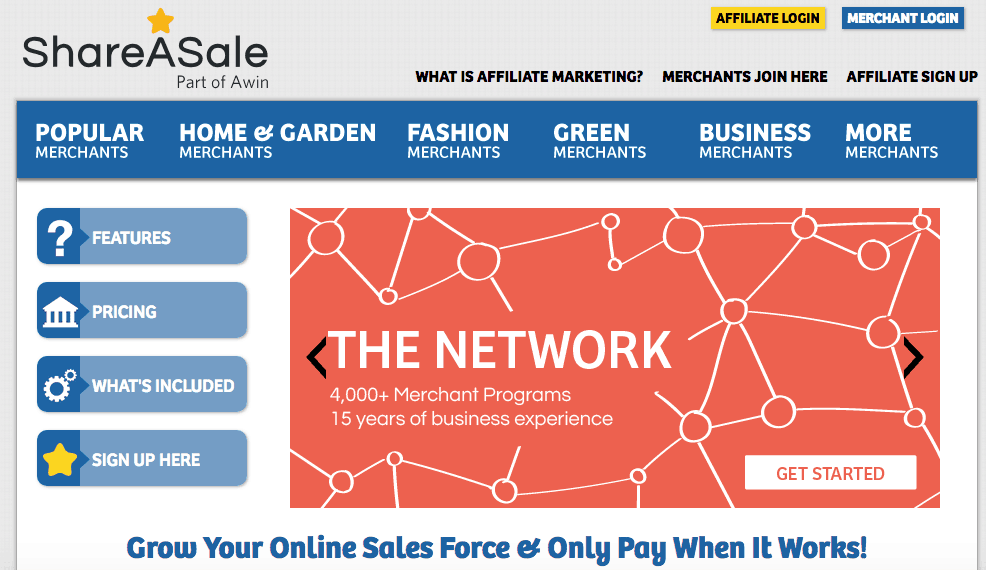 Create compelling images through PicMonkey and also earn 30% commission when your friends, family or clients sign up to PicMonkey for their pictures. All future renewals or purchases are also subject to a 15% recurring commission throughout the lifetime of the account. You also get credit for late purchases through the help of PicMonkey's 45-day cookie.
19. Tailwind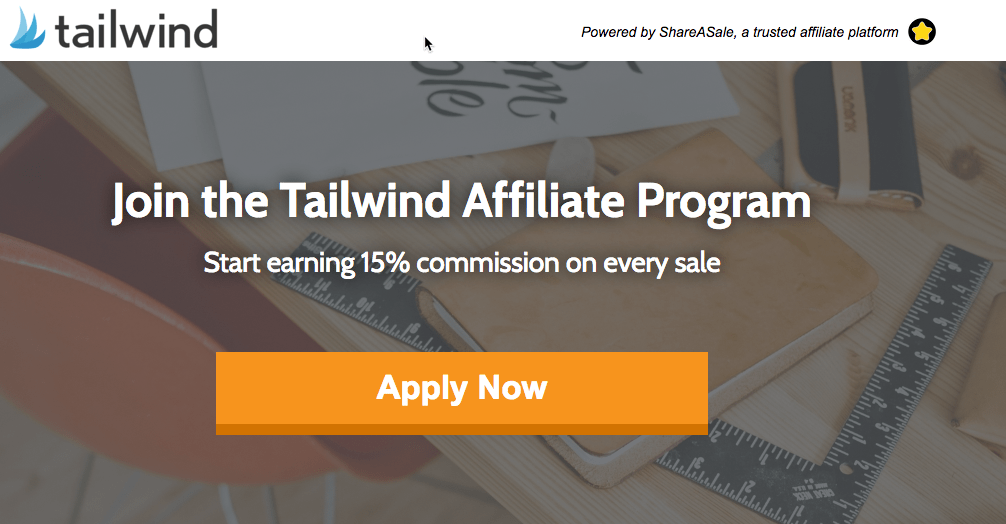 Tailwind is one of the best Pinterest scheduling software that makes managing a Pinterest account really easy. You can also make money from Tailwind by joining their affiliate marketing program that pays 15% on all sales as a result of your referral link. Tailwind also provides a wide range of custom creative banners, screenshots and captions to use for promotion and advertising for your referral link. In case of any issues, there is also a dedicated affiliate team to assist with fast response.
20. Socialoomph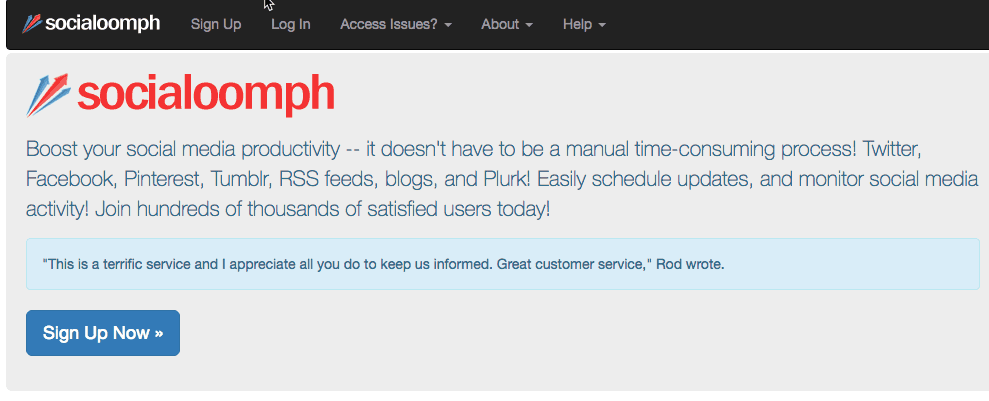 Socialoomph provides quality productivity improvement tools for social media. The company used to be focused on Twitter but expanded to other social media apps. Socialoomph offers 40% perpetual commission on all subscriptions by referrals using Socialoomph Professional accounts. Even when the account holder cancels and later upgrades, the commissions will continue. When your referrals also refer other accounts, you also get a 5% second tier commission in addition to your referral bonus. Payments are made upon request to a PayPal account.
21. LiveChat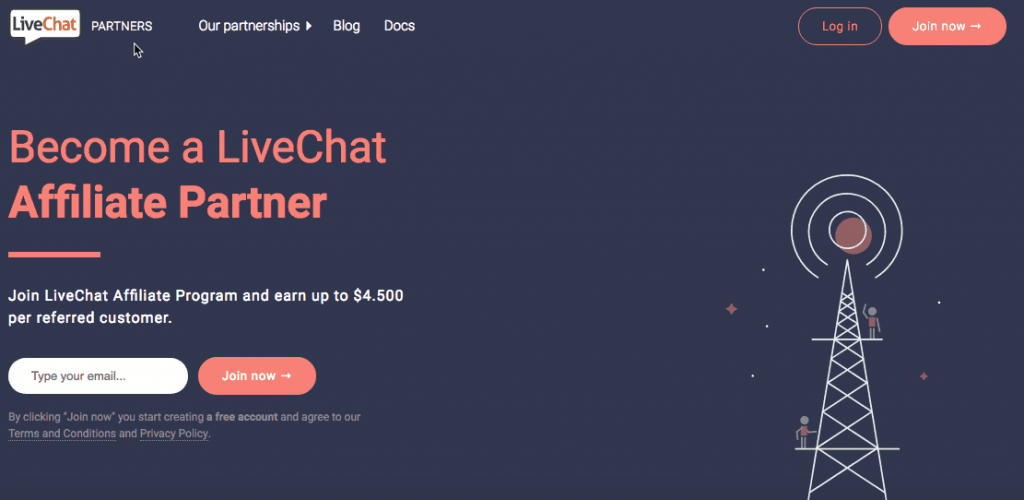 LiveChat provides an invaluable service to e-commerce websites for customer management. Their affiliate program is a great way to make money online with a 20% recurring commission for all referrals and multiple payments available as long as the accounts are active. LiveChat also offers special deals for business customers, offering you a second level referral program and earning opportunity. LiveChat referral cookies last for 120 days which gives your referrals plenty of time to convert and still count for you.
22. Provide Support


This live chat and phone system for e-commerce websites also offers 30% recurring commission for all referrals. The product is suitable for all websites, blogs and e-commerce shops that want an effective customer management and live chat solution. You can make 30% of all subscriptions made through your affiliate link. Becoming a partner is easy. After signing up, you can use your referral link on websites, blogs, web banners and other social media channels. There are no charges, no investments necessary and payment continues as long as the account is active.
23. AccessWP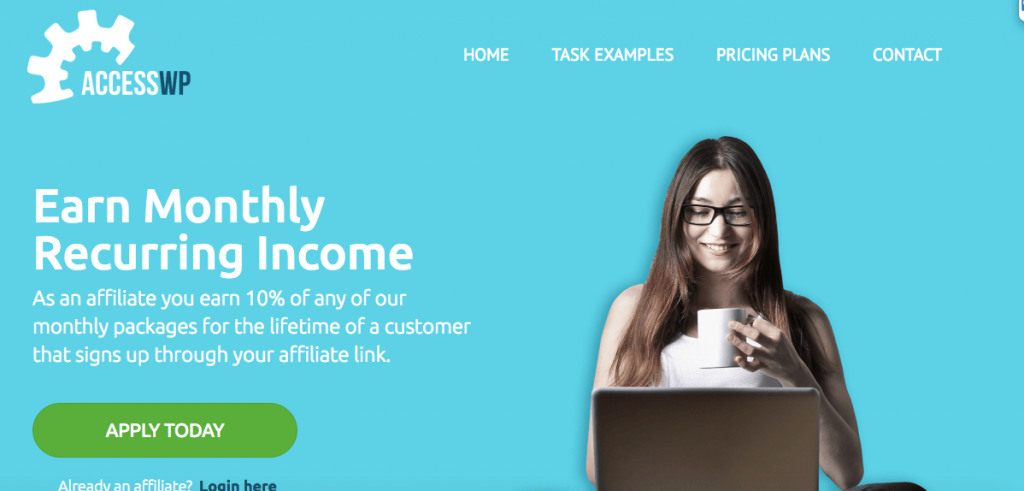 AccessWP helps to provide support to WordPress websites. The service avails website owners the 24/7 access to US-based WordPress developers that will help troubleshoot any issues. AccessWP is also affordable to use and pays a recurring commission of 10% to affiliate partners who make successful referrals. AccessWP provides daily cloud backups, security audits and malware removal, email support and other services as required. Applications to join the affiliate program are also quickly reviewed and approved.
24. CSSIgniter Themes and Plugins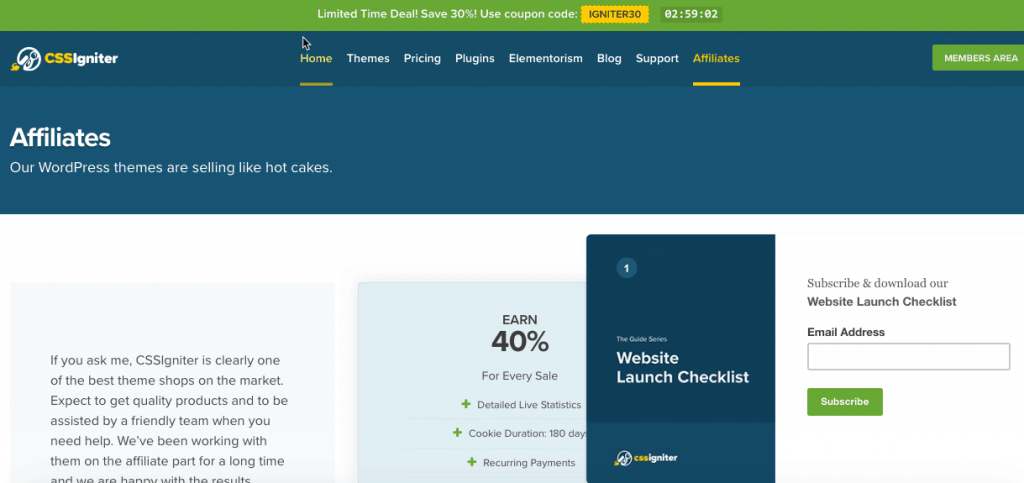 CSSIgniter gives WordPress designers access to amazing themes for a low price of just $69. The website is quite popular and a trusted source for quality WordPress themes. Instead of buying themes individually, users can pay a subscription and enjoy the best of themes at a reduced price. CSSIgniter offers a recurring payment of 40% commission on referrals with a minimum payout of $100 monthly, personalized affiliate links and long-lasting cookies of 180 days.
25. Elegant Themes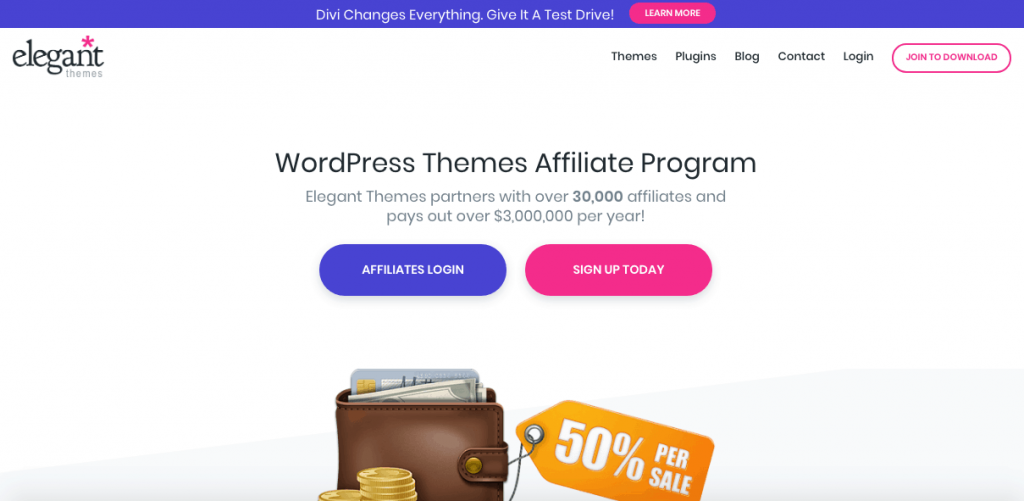 This theme provider gives referrals 50% recurring commission and pays out several millions every year to affiliate partners. Elegant Themes gives out the highest commission percentage of all WordPress theme companies online with over twice the average industry rate. Commissions are also paid on renewals of annual subscriptions so your referrals continue to make money for you as long as they are using the service.