The growth of airline travels in these past years is very undeniable, and one factor that have helped in that growth is the internet. Today, booking flights could be done from a smartphone, tablet, and laptops. Tickets and boarding passes could even be printed wherever a printer is accessible, like at home. As travelling through planes become easier and more accessible, the popularity of airline affiliate programs have too.
Airline Industry Statistics
Just last year, 2016 the profit of the airline industry reached $3.5 billion, and a net of $29.8 billion is expected for this year 2017. And people expect 2017 to be the 8th consecutive year of profitability, airlines get $7.54 per passenger carried. Today, because of technology we can buy anything we want online in just a few clicks, even booking airline tickets is easily done, reserving a hotel can also be done online, you can even get a package for your entire vacation online. Websites like AirlinesGeeks.com and Crankyfier.com get thousands of daily visits showing that more and more people are getting interested to travel by air.
Target keywords
Target keywords for this type of niche are a bit more difficult to find than the ones for the common type of niches.  And it could be the most challenging part in this article. It's going to be hard to look for a target keyword because keywords that would first pop into your mind that's related to airline ticketing would already have high competition.  Some of them would be plane tickets, flight tickets, cheapest airfare. I did a keyword research for plane tickets on MOZ and you can see the results below.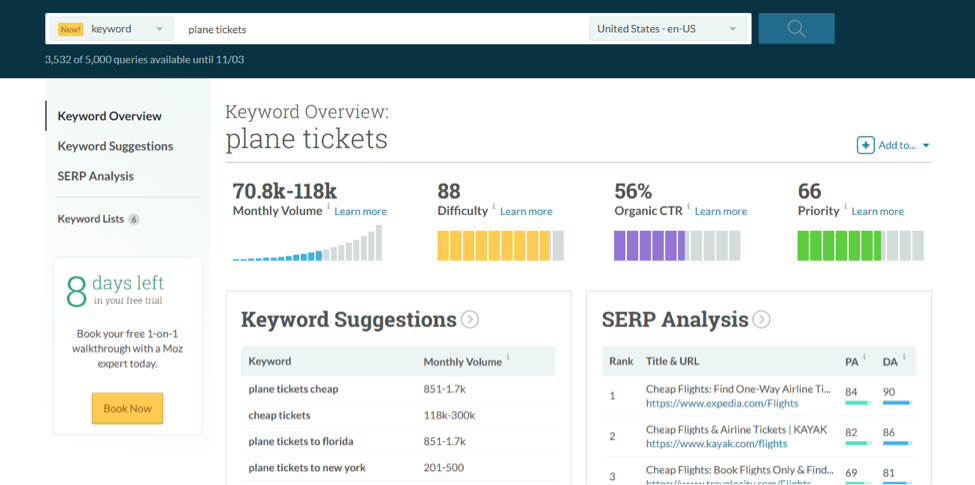 Now as you can see above it has a high monthly volume but it's also a difficult keyword. Now the key here is to try to target long-tail keywords because even if they have less monthly global searches they also have a low competition rate. They are also more specific so it will also help you target your market more efficiently.
The key here is to target long-tail keywords. They will have fewer monthly global searches, but they tend to be low in competition. They are also more specific, so you'll be able to target your market effectively using these keywords. Always check Ubersuggest.org and similar sites for variations on your target keywords.
Most Airlines have their own affiliate program
1. British Airways

This company is UK-based but has a pretty wide global route too. They offer fees that are usually lower than the rest all year round. But how much can you make with them? They give 2% for every flight, hotel reservation, and even car rentals when you pay through BA.com. How can you apply for it? they have a page for affiliates but if you prefer, they have a network where you can sign up which is called performance Horizon.
2. Qatar Airways

Qatar Airways is known almost everywhere, they are one of the major international airlines that fly 140 destinations all throughout the world. How much can you make from them? They don't really disclose it but rumors says it's good enough. How can you apply? They have an affiliate page where all your questions about it would be answered.
3. Qantas

Qantas is an airline in Australia that flies both domestic and international flights. Just like BA they fly in and out a lot of major airports around the world. How much can you make from them? You can make 2% for every time you fly with them. How do you apply for them?  They also have an affiliate page where all your questions would be answered.
4. Singapore Airlines

This one is another well-known airline that flies to a lot of major destinations. How much can you make with them? They offer from 1%-2%. How can you apply? You have to join Vigilink's network first because they are the ones managing the affiliate program of Singapore Airlines.
5. flydubai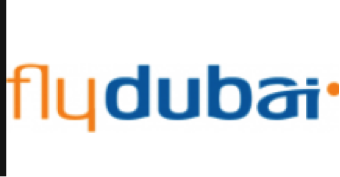 They are a Middle Eastern carrier that started not so long ago, 2009. But they have expanded fast to more than 85 destinations. How much can you make with them? You can make as much as 1.5%. How can you apply? You can simply visit their affiliate page because they are managing it on their own.
6. Etihad Airways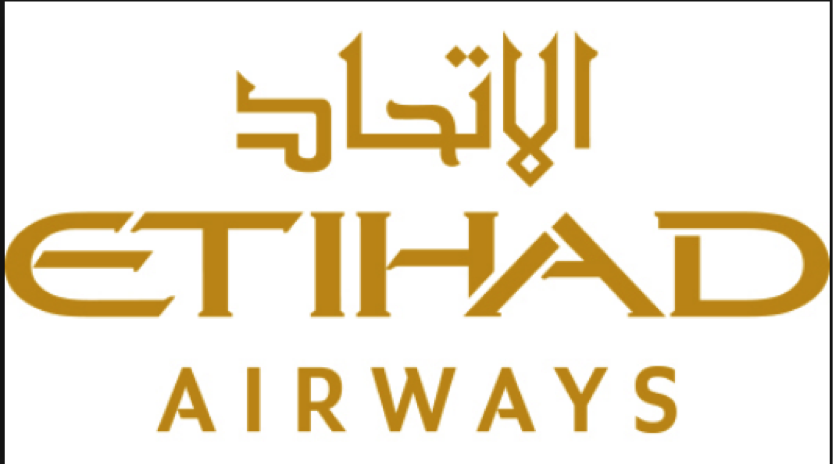 This one is a Middle Eastern Airline that started on 2003 and have grown to reach their services to more than 100 destinations. How much can you make with them? They haven't really disclosed it but you can apply for their affiliate program from their affiliate page because they manage it on their own.
7.  KLM Royal Dutch Airlines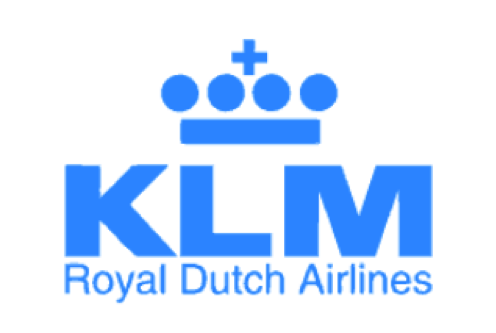 They started way back 1919 and they are still operating under their name. They are the oldest in the industry that still operates under the same name. They are known to work the best in giving their customers the most positive customer experience. How much can you make with them? You can make 1-1.5% and all you have to do to join is visit their KLM Royal Dutch Airlines affiliate page to start.
The oldest airline operating still operating under its original name, KLM Royal Dutch Airlines began in 1919. Today, KLM works to be the most customer-centric European carrier.
There are still other airlines that offer affiliate programs and most really average from 1-2% for every flight that has been confirmed.
How to catch the ones who frequently fly
In order to get people to book from your website you have to be able to market your website properly. You can start with link-building because it has been proven to work the best for this niche. So when you are still starting try to look for the best link building strategies and guides to help you build your site the correct way, this is crucial because competition is very high and you have to really aim to be the best to get noticed. 
Press release
Make sure that you are always on the lookout for tickets that are on sale so that you'd be the one to let people know first through press releases, then link it back to your site. When there are information related to travelling, airlines you promote always make sure to be the first to share them and again link it back to a related page on your website.
Social Media Marketing
Make sure that your presence on social medias are strong because that is where a lot of info sharing happens. And being active on social medias don't just make you share and share but it allows you to keep your target market engaged and interested. It can also work as a good content source for you because a lot of people share opinions and tips on there.
Solo Ads
Paid marketing could sometimes be risky but there might come a time when you have no choice but to take the risk. Solo ads are when you pay a solo ad provider (fee depends) so they run your ad in their subscriber list. Now you get two things from this. Some people would sign up for your own subscriber list, that's also a win. Or they'll see your affiliate offer and buy from you, so the bottom line is you win either way. But before going into this make sure that you read more about it because again, you'd be paying a fee and it's not ideal to pay for something you know nothing about.
Conclusion
There are a lot of different types of niches and all of them have a potential to earn of course. But you have to put time and effort to make sure that your website becomes successful. It's not ideal to go into something you know nothing of so always make sure to do your research first. As you can see in this article, airline niche is already too crowded and the cut you'd be getting isn't really a big amount even if you'll have to put in more effort compared to other niches. There are a lot of major airlines that already have their own websites, and a lot of successful online travel websites you'll have to compete with which makes it almost impossible to win against. If you really want to test the waters I suggest you try starting with a tie-up in hotel and airline booking that promotes travel affiliates, you have better chances in those.  The main key here is to be committed in what you are aiming for, so if you want to try it out, we wish you the best of luck.