Benefits of Bringing your eCommerce store to Facebook
Is it a good idea to attach your business to a Social Network? A lot of people and even expert eCommerce marketers say Facebook is dying, especially for marketers. From all the benefits I could get from Facebook, I disagree that it's dying.
As a business, it's a very smart idea to set a camp on Facebook. To prove my point, here are some things you could benefit from connecting your business to Facebook.
You get to spy on your competition- You get to see how other niches in your area are growing on Facebook. You get to set-up pages you want to spy on and see whenever they get an explosion of interactions.
Mobile friendly-Many people use their phones to do almost everything, especially purchase stuff.  And as this is becoming more and more popular over the days, having a mobile-friendly website and a Facebook page that customers can access immediately is important. Your customers get to see your operating hours, address, some reviews, and even your phone number to be able to be contacted easily.
Drive traffic- Of course! Start using link posts to drive traffic to your website. It'll show a thumbnail of your website, therefore it's going to be more noticeable.
Brand loyalty- Would you rather buy from a shop with no Facebook where you can't see how responsive and active they are? Or a Shop with a Facebook page with good reviews, a responsive account, and loyal followers? You're definitely going for the latter, right?
Target audience- Yes, Facebook has millions of users but that doesn't mean they'll all be following you. It also doesn't mean they will engage on your posts. With how the algorithm works today, uninterested followers aren't really important.
Free exposure- one way or another, you'd definitely find people interested in your business through Facebook. It might not be a lot but there will be. If you don't get anyone interested then maybe you should consider changing your career.
Now that you can see that putting your eCommerce store on Facebook would give you good benefits, and with effort a possibility of more loyal customers, it's time for you to know more about how Facebook works.
Understanding How Facebook Works

First of all, why Facebook? Why not other social networks? Well, this one is obvious.
Of all the other social networks out there, Facebook has the largest active users amounting up to 2 billion monthly active users. Again, those are monthly active users. With that being said, it's given that you can find your prospect customers on Facebook.
Another good thing about Facebook is that no other social network can generate traffic close to as much Facebook generates. That's all because users in Facebook are more willing to click on links compared to users from other sites. And when it comes to eCommerce marketing, it's unlikely to ignore the free marketing strategies you could do with Facebook.
Increasing engagement and audience for your shop is very important and Social networks are platforms for that, especially Facebook being the largest. But the downside of Facebook is that for an average page, you only get an organic reach of about 6%. So basically, some pages get more, while some pages get less. So first thing first, how can you boost your organic reach?
How can you outsmart the algorithm? How can others know your page exists? Well, let's start off by understanding how the organic reach of Facebook work.
Organic Facebook Reach
First of all, if you didn't know, organic reach is the number of people who were shown your page's posts. And Facebook's algorithm for that is a bit different and low. Let's say you have 10,000 followers, not all of them can see your posts.
Just 650 of them would see your page's post on their newsfeed. People who interact the most on your page would be the one who'd definitely be seeing them. The new algorithm of Facebook now works very differently than it did before.
Today, the algorithm of Facebook would adapt to what an individual user interacts with the most. Let's say the lesser you interact with photos the lesser photos you'd see on your newsfeed. But for marketers, there's good news! Videos with a high watch and completion rates get to be shown at the top of users newsfeeds, and that goes the same for live videos.
Why is The Organic Research of Facebook dropping?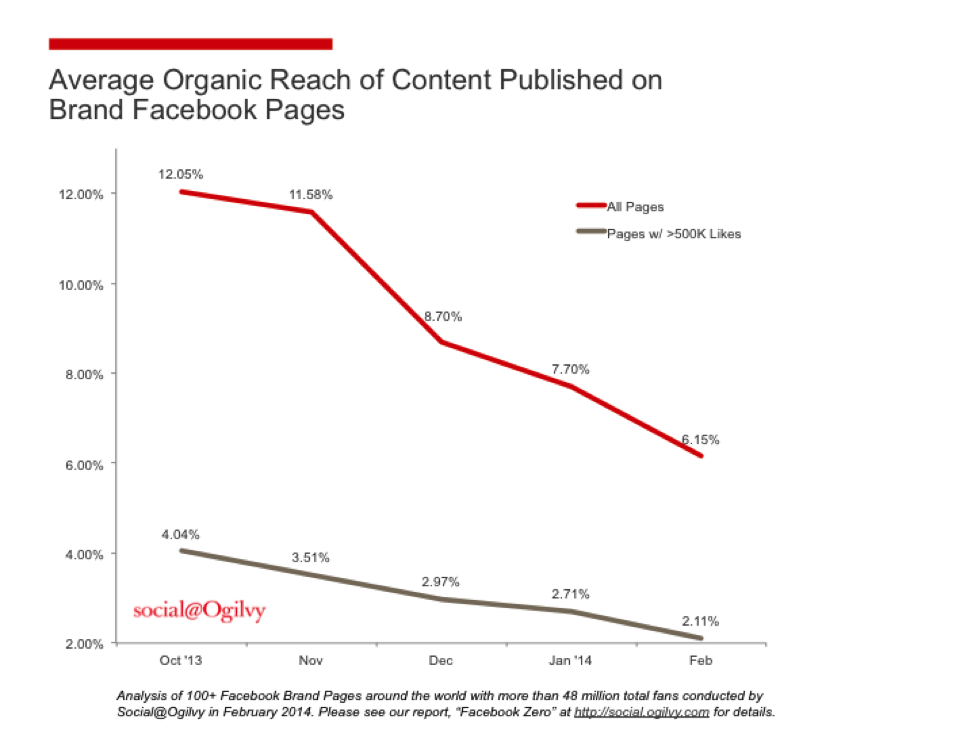 A lot of people in the marketing industry suspects that the reason for why organic research on Facebook is dropping is because the lower the reach, the more people will pay to advertise, therefore more money for Facebook. But do you think they'd really go after money that bad? A lot of people has said that to the face of Facebook's Ad's Product Marketing Team. But what do the marketing team think?
Based on their updated post, their goal is to give Facebook users the best experience by giving them what they truly interested in based on their interactions on Facebook. So now, you know a little bit more about how the organic reach of Facebook has changed, how can you deal with it as an eCommerce store? How can you get more Facebook followers?
How to get more Facebook Followers?
Given that Facebook is beneficial to eCommerce stores, has the largest active members, but a low organic reach of 6%, what can we do to get more followers? And mind you, for FREE. Well, there are a lot of ways for this one.
1)    Post Videos. Facebook already told eCommerce marketers that regular and live videos would definitely show on your follower's newsfeed. Aside from that, it allows you to try something new. Aren't you tired of all the old ways? Spice it up by adding a video. It will definitely work because some people nowadays would rather watch and listen to what you have to say than read it.
2)    Optimize the info of your Page. The quick preview people see from your Facebook page is your cover photo, profile picture, and a short description you write about your page. So make sure that your photo clearly shows what they can expect from your business and encourages people who see it to follow it. Make sure that your short description is well-written. But don't stop there. As much as possible fill up all the necessary details on your page. Pages with complete details seem more legit and attract more followers.
3)    Quality Content. Make sure that the content in your account is interesting, entertaining and engaging. The more engaging your account is the more people would get attracted to it and share it. Once people share your page, more people will know that you exist.
4)    Be active. Be as active as possible. If you don't post regularly, people would have low chances of seeing your page. There's no rule to the amount you should post but it should at least be 3 times in a week based on the practice guide. Remember if you aren't active then don't expect your page to gain popularity.
5)    Promote. As much as possible, promote your Facebook everywhere. You can do it in a lot of ways. You could start with your own website, emails, newsletters and other social media accounts and platforms. Make sure to make it as convenient as possible for people to reach your Facebook page. Less difficulty and hassle the higher the chance that people would take time to check your page.
6)    Start within your existing community. The easiest and fastest way to grow some followers is through people you already personally know. Aside from people you personally know, you also have virtual employees, current customers, business partners and people you have met in the industry.  Why them? Because they are likely to go the extra mile and kick-start your Facebook career. Aside from that, they could possibly be interested in the things you have to offer.
7)    Contests. Once you have a good amount of followers, run a contest that would build your audience and help you gain more likes. But remember that your contest should also follow the guidelines of Facebook.
8)    Facebook groups. Utilize Facebook groups as much as you can. If you go on Facebook, you'd see that there are millions and millions of groups for every niche, hobbies, common interests. Facebook groups allow users to exchange ideas with people who share the same interest. Check the group's guidelines, if it's allowed then advertise in them. If you want to keep it discreet then build some friends and common interests through engaging through the comments. Eventually, they will check your profile and hopefully follow your page.
Or you can generate your own group, this way you can benefit when you've gained a good amount of active members. As the Admin of the group you'd always be the first to be seen and people who are not part of the group would more likely view your page.
9)    Transparency. Be as transparent as you could be. The overly corporate aura is not for the Facebook potential customers. Today, people are more into brands or shops that they can relate more to. Make sure that your page is able to show your philosophy, values, cultures and a sneak peek of behind the scenes. Putting a personal touch on your page would make more people want to follow you. The more you allow your followers to engage and relate to you, the more they will be interested in your products. For instance, would you buy from a shop that's overly serious it's boring? You won't right. So try to put in some interesting photos, videos or just status's on your page.
10) Encourage. Let your fans know that in order for you to have more posts, you need more support from them in engaging in your posts. That way they help in your organic reach and their friends could possibly see their interactions and get interested in your page as well.
11) Tag a friend. Whenever you have games or promos, don't forget to let your followers tag their friends or share your games. That way they get to advertise you for the chance of winning. It's definitely a win-win situation.
When you're still starting, getting more Facebook followers that'll benefit your eCommerce store is difficult. You'd have to put in so much time and effort. But once it starts to get known things on Facebook usually grow fast, next thing you know you have a huge fan base. Just don't give up, once people get to know you the word will be out and everyone with the same interest will be following you.
Conclusion
When it comes to growing followers on Facebook, there are a lot of factors to consider. Especially now with their new update. There are a lot of benefits you could get from making a page on Facebook for your business, most of them are listed above, but the best benefit is that you can market your product for free.
So, when you choose an affiliate tracking software make sure that you consider one that is updated with Facebook's algorithm to maximize your reach. To be successful in gaining followers it's a must that you have an idea how their organic reach work, you should also be updated on their new algorithms and updates. With just an average of 6% of the people who followed you being able to see your posts, you have to kick-start your game in a way that you get your followers engaged and interested in your page.
You have to make them want to wait for your next exciting post. It might seem difficult at first, and it would take time but once it kicks in, it'll definitely be worth it. There are 11 ways to gain more followers on Facebook for your eCommerce store, not everything works the same for everyone so just keep trying until you find one that would help your eCommerce store be more successful.