What is the right referral incentive for your program? Should you give away a discount code, some cash or just give away some products that are valuable to your customers? Well, that will depend on a lot of different things.
First, you should consider your customers. Think about what your customers want. Do they like to earn money?
If yes, should you give it as cash or as a discount? If you choose the discount, should you give a percentage discount or a cash discount? If they don't like to earn money, what do they like?
You'll need to explore your niche quite a bit to get the answer to this question. To help you with that, I will discuss the different types of referral incentives that you can use for your program. You'll notice that incentives can vary from niche to niche.
Hopefully, this article will be able to help you choose the right incentive for your program.
Should You Give Cash, Discounts or Item Incentives?
There are many types of incentives that you can give away. The type of incentive will depend on the desires of your target market. Below are some of the most common types of incentives.
Cash Incentives
The most common type of incentive is cash. In fact, this is what PayPal did and this has led to millions of signups making it the leading payment processor as it was today. Paypal used to have a referral program.
However, they have discontinued it now that they have a stable amount of users. Before, they used to reward their users with cash for every sign up. Here is a peek at the old PayPal referral program.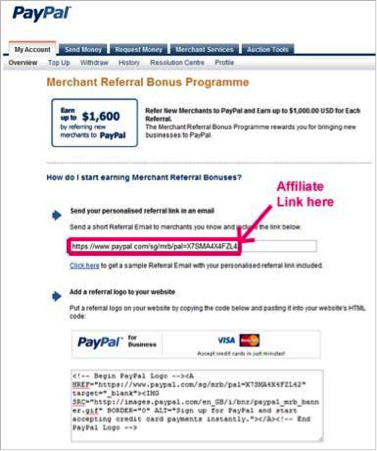 GSuite's referral program is quite interesting. It gives $15 for every successful user sign-up. This means that as long as someone creates an account from your referral, you'll instantly receive $15. It just implements a $1,500 limit to avoid referral abuse.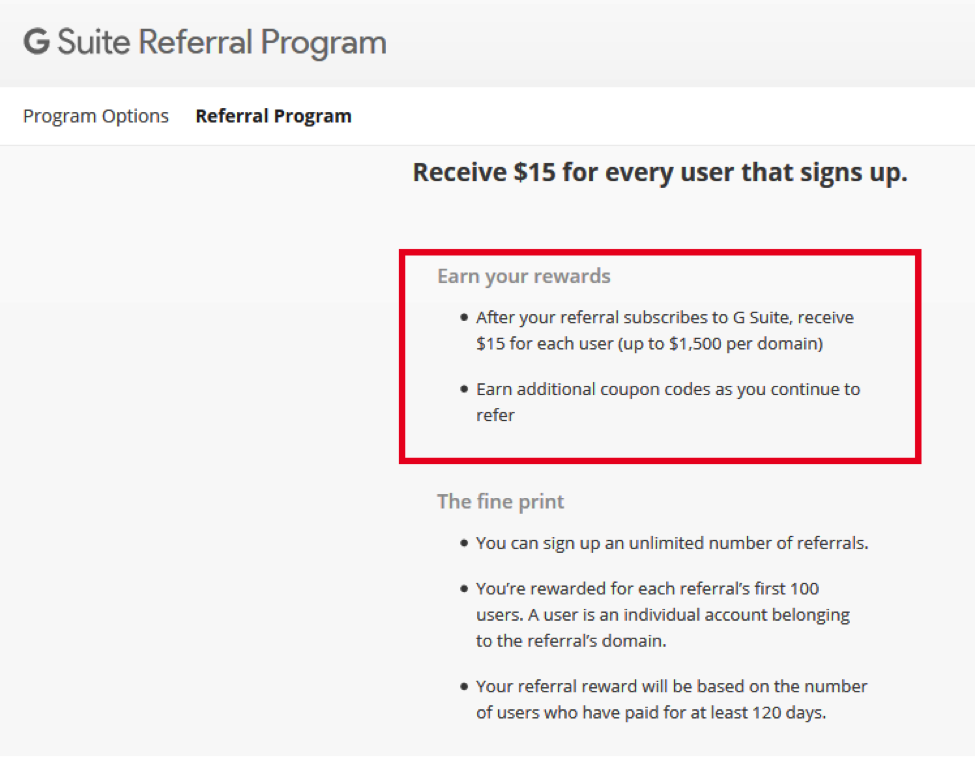 As you can see, a referral program can offer a lucrative way of making money. This is the reason why people love to promote programs with good rewards.
Percentage Discounts
Cash incentives is the most common but you can also give percentage discounts instead. This is useful especially if you are running a membership or eCommerce website. A good example for percentage discount incentives is Ice Chamber.
They give a 20% discount for memberships once a friend purchases a starter pack. Then, there will be another 20% discount if the friend proceeded with the sign up.
Percentage discounts are great if you don't want to give away some cash. You can also convert this into cash discounts, The effect will still be the same. With discounts, you don't need to give away money for every friend referred to your program.
You just give them a discount when they buy the product that you are selling.
Item Incentives
But for some, items may be more useful. For example, Tesla offers different items in exchange for referrals. I guess this is just right because these are the items that their customers are interested in.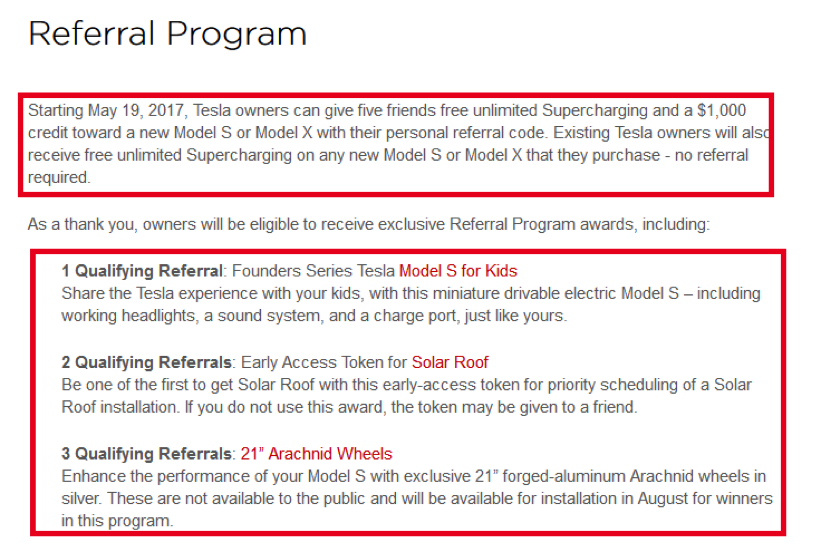 Another example for item incentives is World of Warcraft. They chose to give some game time or in-game items in exchange for referrals. I think that this is perfect because these are the things that their target market is interested in.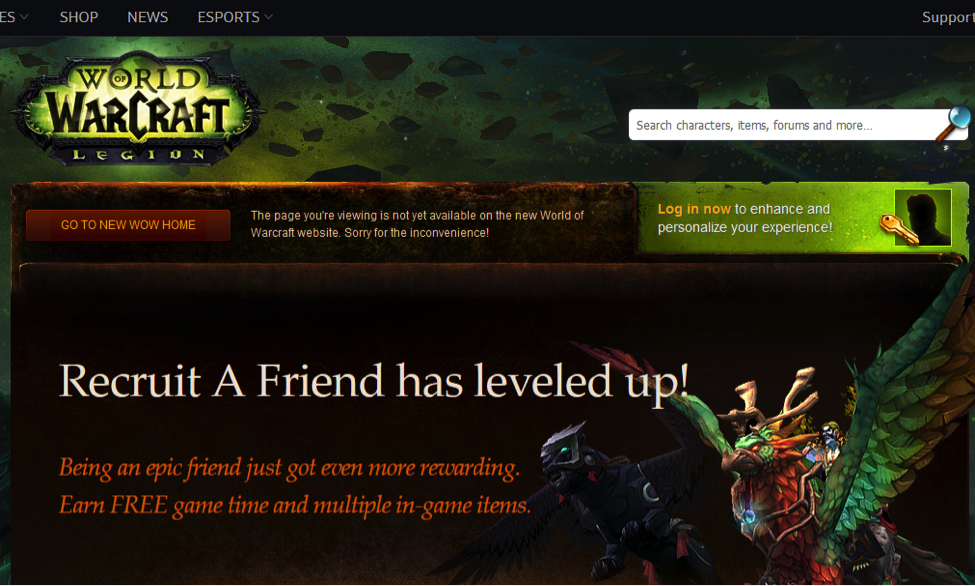 Aside from digital items, you can also give free upgrades. Take Dropbox for example. They give free space for referrals.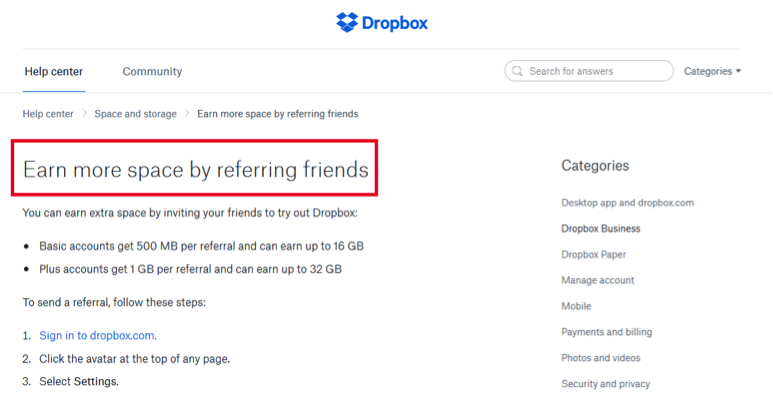 And the list can go on.
NOTE: Take note that referral incentives has a $1000 rule. But this only applies for 'cash vs discount incentives'. For items over $1000, a discount may be more valuable than cash. Just imagine getting a $5 coupon for a $1000 item. It is not that attractive, right?
Also, you have to consider the item that your prospects is going to purchase. Is it something that they need on a continuous basis or will they only purchase one-time? For one-time purchases, cash discounts may be better for they can use it right away.
Percentage discounts may be more valuable for items that have repeat purchases. These are just some things that you can consider as you decide on your reward.
Who Should You Give the Incentive To?
Aside from knowing what your reward is, you should know who to give it to.
A referral system has two parties: the referrer and the friend.
The referrer – This can pertain to your existing customer or the person who will do the promotion. This person would often look for an incentive for promoting anything. This is the reason why most referral programs often reward the referrer.
The friend – Friends are just as choosy as the referrer. Even if the referrer is good with marketing, the friend will not sign up unless there is something in it for them. This is where the 'reward both' system is born which is quite common in most referral programs.
But who should you reward?
Well, that depends.
Let us take a look at what some companies are already doing. Hopefully, this can inspire you to choose the right person to reward.
Reward the Referrer
Reward-the-Referrer is the most common. After all, referrers would want to get some form of reward for promoting a product. They want to get something in return.
Rewarding them will encourage them to promote the program more. Dropbox has a referral system that rewards the referrer. This is where they give more space to anyone who refers a friend.
This will depend on your account. You'll get 500MB of space if you have a basic account and 1GB if you have a Plus Account.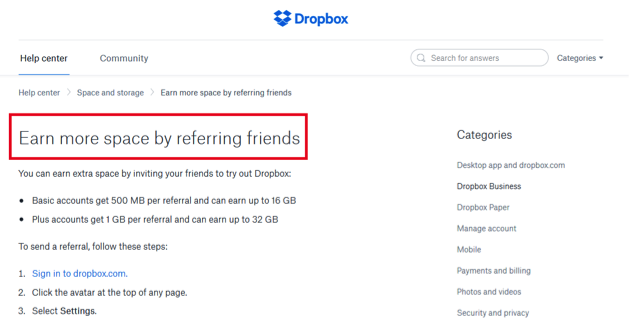 Basically, it gives free space to anyone who will promote the program. This is a good example of reward-the-referrer. Another example is the GSuite program.
This program gives free $15 for each signup. But it doesn't reward that friends that sign up. It focuses merely on the referrer.
Reward-the-referrer programs encourages product promotion. It gives the referrer an incentive for the action of promotion.
Reward the Friend
Amuze, on the other hand, has a different take on referrals. They reward the friend primarily by giving them a $25 off their purchase. But then, the program rewards the referrer when a sale is made from the friend.
But the reward is $25 off the next order. This is a good example of a friend getting the reward instead of the referrer.

Another example for 'reward a friend' is Uber. They have a program where you can give discounted rides to your friends through a link. This is great because it encourages people to join.

Reward-the-friend works because it minimizes the friction when friends sign up. Usually, they don't have anything to gain when they sign up. If you give them a reward, then they'll be more likely to sign up.
Reward Both
Another way to approach this is to reward both. This is where you give a reward for both the referrer and the friend.
Take Tesla for example. According to their incentives, they will give unlimited Supercharging and $1000 credit for the Model S or Model X for friends and tons of benefits to the referrer. They also give their referrer a choice on 5 rewards namely: Model S for Kids, the Solar Roof, the 21″ Arachnid Wheels, the Founders Series Powerwall 2 and the Tesla Semi Truck Unveil Invitation.
This shows that they are giving rewards for both the referrer and the friend although the referrer seems to get more.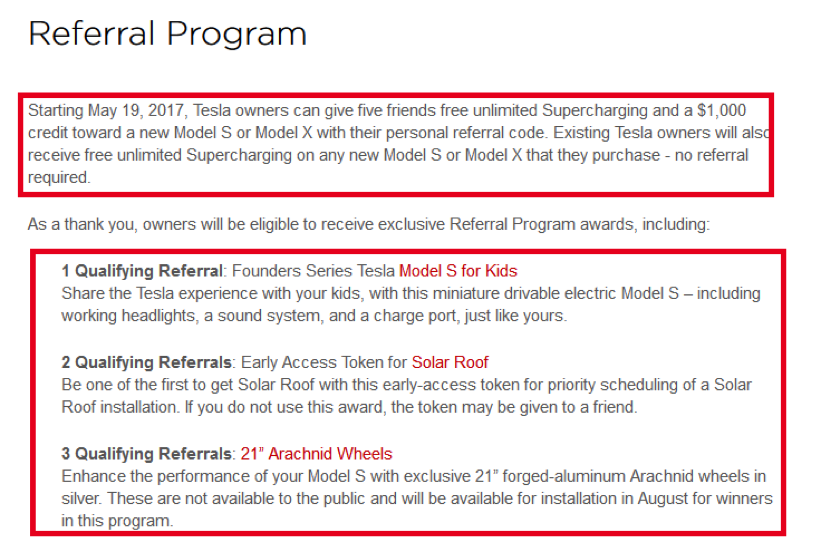 Another company that have used the 'reward both' approach is Nutrisystem. They have this 'Give $30 and Get $30' campaign where they give both parties $30 for each successful referral. 'Reward both' programs can be as simple as this.
This way, you don't have to think of varying the amount.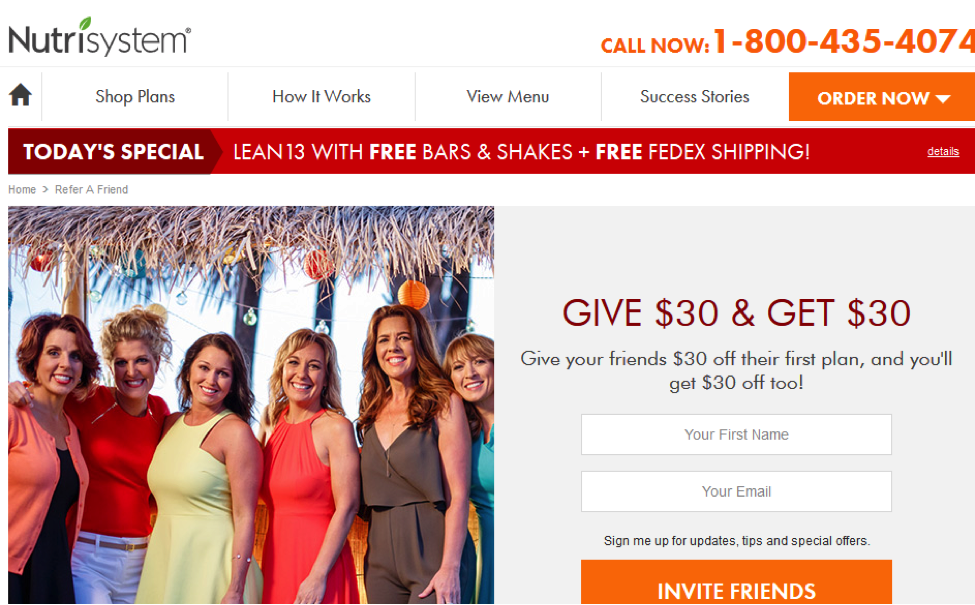 Another company that have used the 'reward both' method is theClymb. In their referral program, they reward both the referrer and the friend with $10 for each successful referral.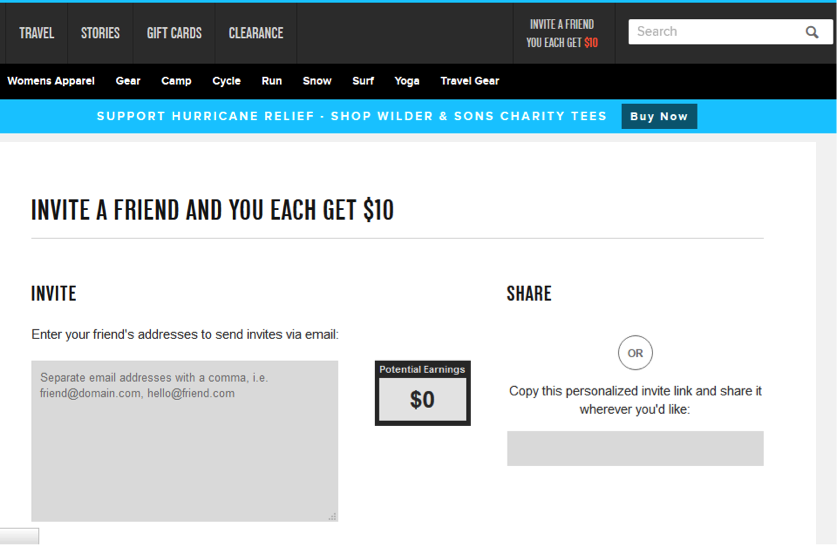 What Works Best for You?
If I can make a suggestion, I think that the 'reward both' approach is the best out of the bunch. The only downside is that it will require a greater reward (for you have to reward both the referrer and the friend). But this pushes them to act.
With an incentive, the referrer will be more inclined to promote your products and the friend will be more inclined to sign up. In fact, you don't even have to make any money in the beginning. Do you think PayPal is not losing money when they chose to reward every user that signed up to their payment processor? Of course they are losing money.
But they are willing to lose money in order to gain more customers. And that's what they did and that's what made them the biggest online payment processor today.
How Will You Give the Incentive?
Incentives is not just about the 'what' and the 'who'. You also need to know the 'how'.
For example, Amuze may have rewarded the friend in the beginning but it has also turned its program into 'Reward Both' in the later stage.

Sure, they give a $25 off to the friend. But once the friend buys, the referrer gets rewarded as well. And they can then use this $25 off on their next order.
As you can see, Amuze plays with the element of time and order placements. They give the reward once a particular action is done. The $25 reward for the referrer is only activated once the friend buys.
And the $25 off is only used once the referrer buys. So Amuze is asking for more than just a promotion or sign up. They are requiring both the referrer and friend to actually buy.
Another way to play with your referral incentives is to vary the amount. The amount doesn't have to be equal. For example. Verizon gives a $200 Rewards Visa card to the referrer but only gives a $50 Rewards card to the friend. It is not the same as the Give $30 and Get $30 in Nutrisystem. Instead, the referrer gets a greater reward.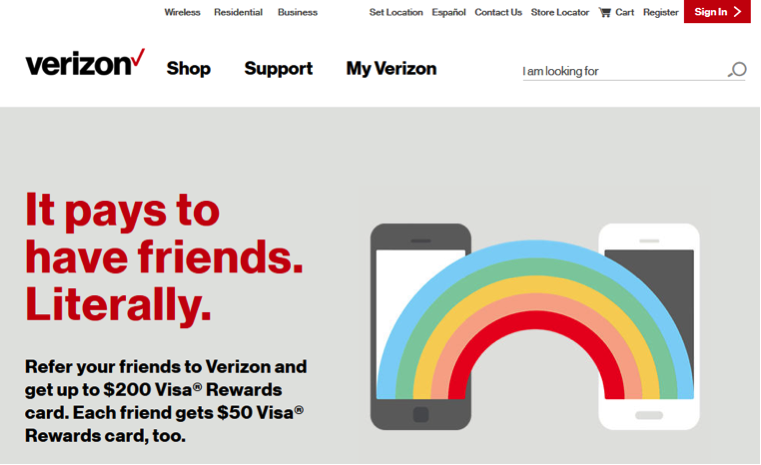 You can also do this 'varying amount' system on items. This is what Tesla did when they give more to their referrers than to the friend. I guess it is only natural. You'll want your referrers to get a greater reward for they are doing you the favor of promoting your product to others.
There are also some referral programs that give rewards for every action done by the friend. Take the Sprint referral program for example. The referrer gets a $50 Visa card for every new telephone number signed up to them.
A person can have multiple numbers. This means that they can earn as much as $500 for every sign up.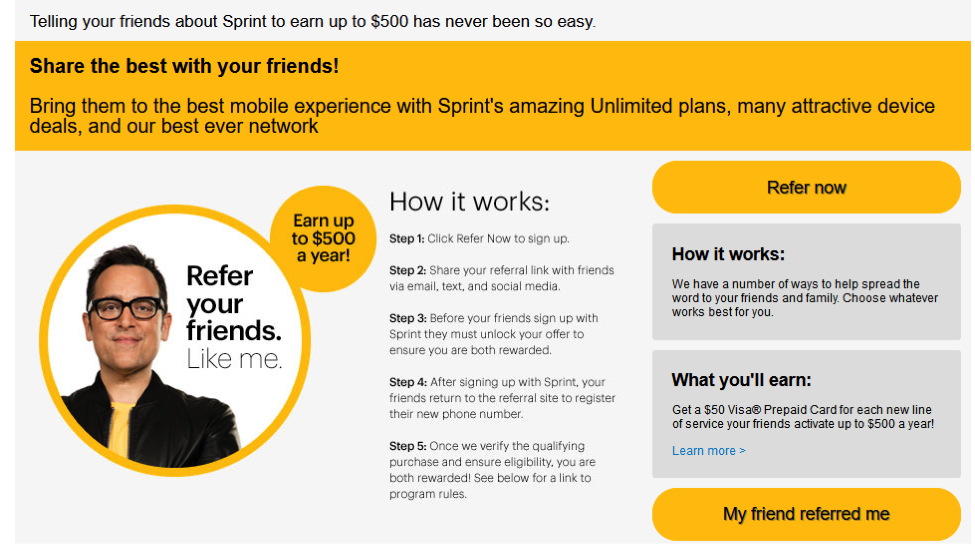 Cubesmart has some pretty cool ideas in its referral program. It plays with both time and the type of the reward. First, it gives a reward to the referrer for every friend that successfully rents with them. Then, they also discount the referrer's rent in the next month.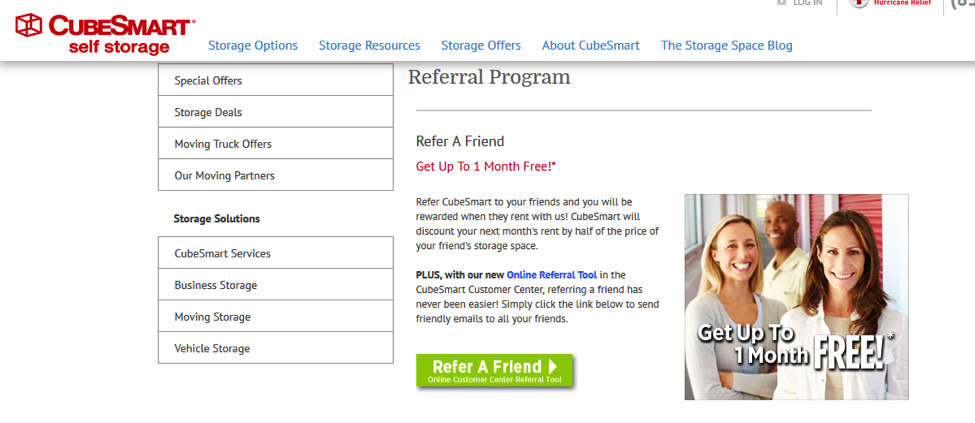 As you can see, you can get creative with this. It doesn't have to be the same as what others are doing. You can choose an incentive type and time that fits your unique needs.
Choose a Reward and Get Going
You should just choose a reward and get going. It is in these times that analysis paralysis will kill you. You don't have to choose the 'perfect' reward. That doesn't even exist.
As long as you use a reward that resonates with the desires of your target market, that's good. This article is just here to give you some ideas on what to give, who to give it to and how to give it. But you can choose to give your incentive any way you like.
Is there a right and wrong way of giving referral incentives? I don't think so. All that matters is that the reward is interesting enough for your market to sign up or market your product. So choose your reward and get going.